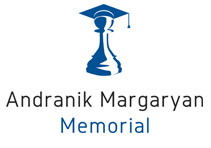 Round Robin


Tournament
ChessAcademy.am
The 11th Andranik Margaryan Memorial - Closing Ceremony
2021-01-20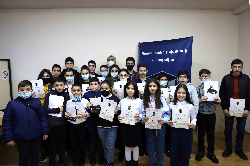 The closing ceremony of the 11th Andranik Margaryan Memorial – Swiss & Round Robin Tournaments was held on 18 of January at the Chess Academy of Armenia.
125 young chess players from Armenia and Artsakh took part in this memorial.
The total prize fund of the memorial was 1 000 000 AMD. All the winners of the tournaments were awarded with medals, diplomas and monetary prizes.
As a result of the tournament the following players took places:
A1 tournament – boys & girls under 18
1st place – Vardanyan Aram
2nd place – Hakobyan Erik
3rd place – Manukyan Aleks
4th place – Stepanyan Hamayak
Girl U 18 – WFM Mkrtchyan Mariam
A2 tournament – boys under 14
1st place – Mitoyan Zhores
2nd place – Aleksanyan Davit
3rd place – Hayrapetyan Edgar
A3 tournament – boys under 12
1st place – Petrosyan Hamlet
2nd place – Hovakimyan Vache
3rd place – Simonyan Arman
A4 tournament – boys under 10
1st place – Kocharyan Vache
2nd place – Avanesyan Aleksandr
3rd place – Araqelyan Manvel
A tournament – boys under 8
1st place – Apikyan Sevak
2nd place – Harutyunyan Armen
3rd place – Martirosyan Artashes
B1 tournament – girls under 14
1st place – Hayrapetyan Nvard
2nd place – Goginyan Tamar
3rd place – Stepanyan Alvard
B2 tournament – girls under 12
1st place – Kasinyan Lilit
2nd place – Krkyasharyan Sona
3rd place – Gevorgyan Olga
B3 tournament – girls under 10
1st place – Nahapetyan Ani
2nd place – Danielyan Aida
3rd place – Harutyunyan Gabriela
The final results of the games and the names of the participants, who have fulfilled categories see on the oficial page of the memorial.
Photos of the tournaments see on our facebook or the official page's gallery of the memorial - http://amargaryan-swiss.chessacademy.am/gallery/list/….
Useful links

chess-results.com

Weather in Yerevan

ChessMood
Organizers