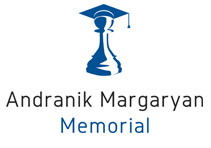 Round Robin


Tournament
ChessAcademy.am
Welcome to the official web page of Andranik Margaryan Memorial
The Chess Academy of Armenia is honored and delighted to inform you that "Andranik Margaryan Memorial-2024" Chess Tournament will take place from the 9th to 16th of January, where the best young chess players will show their beautiful games.
We truly hope that all the players, coaches and parents will have an enjoyable time.
For your convenience, our official website makes it relatively easy to obtain tournament regulation, schedule or any detail about roles and instantly get helpful information. Anyway, if you encounter any issues, feel free to contact us:
Add.: Shevchenko 34, Yerevan, 0050, RA
Tel.: +374 10 44 84 76 (79) , +374 43 44 84 73
E-mail: chessacademyarm@gmail.com
Good luck to everyone, have a great and exciting tournament, and most of all have fun!
Useful links

chess-results.com

Weather in Yerevan

ChessMood
Organizers