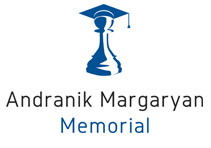 Round Robin


Tournament
ChessAcademy.am
The 12th Andranik Margaryan Memorial - Closing Ceremony
2022-01-16
The closing ceremony of the 12th Andranik Margaryan Memorial – Swiss Tournament was held on 16 of January at the Chess Academy of Armenia.
430 young chess players from Armenia and Artsakh took part in this memorial.
The total prize fund of the memorial was 2 500 000 AMD. All the winners of the tournaments were awarded with medals, diplomas and monetary prizes.
As a result of the tournament the following players took places:
A1 tournament – boys & girls under 18
1st place – Sahakyan Aleks
2nd place – Pashikyan Rudolf
3rd place – Alikhanyan Artak
4th place – Rostomyan Mikayel
5th place - Manukyan Sevak N.
6th place - Sukiasyan Vahe A.
7th place - Galajyan Armen
Best results among girls Under 18 – Harutyunyan Meline
Best results among girls Under 16 - Badalyan Seda
A2 tournament – boys under 14
1st place – Atoyan Alberto
2nd place – Poghosyan Alen
3rd place – Melnikov Fedor
4th place – Shahinyan Vladimir
5th place - Muradyan Artur
Best results among girls Under 14 – Mkhitaryan Emma
A3 tournament – boys under 12
1st place – Torosyan Volodya
2nd place – Ghazaryan Narek
3rd place – Harutyunyan Arman
4th place – Hovhannisyan Miqayel
5th place – Avanesyan Aleksandr
A4 tournament – boys under 10
1st place – Kocharyan Vache
2nd place – Arzumanyan Avetik
3rd place – Varosyan Hayk
4th place – Hayrapetyan Edvard
5th place – Sargsyan Narek
A5 tournament – boys under 8
1st place – Matevosyan Hayk
2nd place – Apikyan Sevak
3rd place – Mnatsakanyan Hayk
B tournament – girls under 12
1st place – Danielyan Lilia
2nd place – Karapetyan Maria
3rd place – Nahapetyan Ani
4th place – Diloyan Angelina
5th place – Sergoyan Nare
Best results among girls Under 10: 1st place – Harutyunyan Gabriela
Best results among girls Under 10: 2nd place – Hakobyan Mane
Best results among girls Under 8: 1st place – Isakhanyan Nare
Best results among girls Under 8: 2nd place – Torosyan Lili
Useful links

chess-results.com

Weather in Yerevan

ChessMood
Organizers